"LITTLE TECTONIC SQUARE"
---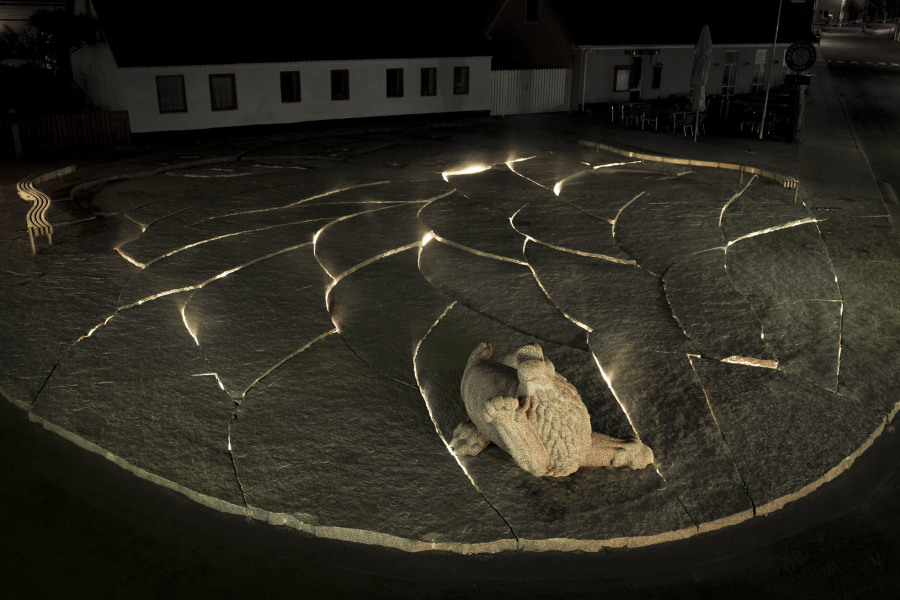 Foto: Eigil Kirkegaard
2016, HIRTSHALS, DENMARK
COMMISSIONED BY HJØRRING MUNICIPALITY AND HJØRRING MUNICIPALITY'S ART COMMITTEE
The sea and nature around Hirtshals demand interaction between mighty forces.
The sculpture writhes in baroque fierceness and after dark, the more than 400 tons of granite plates will float on light while smoke seeps out between the cracks.
In principle, the square is one slab of granite, which the sculptor has cleaved into 44 pieces.
The benches have been pressed in undulating motion from whole oak planks.
UNVEILING 26th of APRIL 2016
DECEMBER 2015 - THE SQUARE ARE MOVED FROM MYGDAL TO HIRTSHALS
NOVEMBER 2015 - CARVING IN MYGDAL THE SQUARE ARE READY FOR INSTALLATION IN HIRTSHALS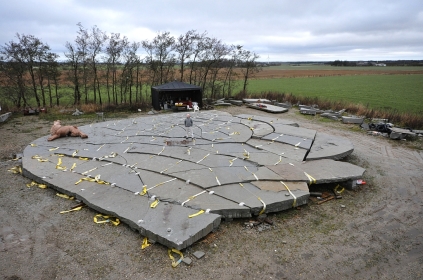 JULY-AUGUST 2015 - CARVING IN MYGDAL
MARTS-APRIL 2015 - CARVING IN MYGDAL
JANUARY 2015 - CARVING IN MYGDAL
CARVING IN MYGDAL. WORKING WITH THE GRANITE PLATES FOR THE SQUARE
CARVING THE GRANITE IN STONE QUARRY IN SWEDEN
MODELLING OF THE LION IN FULL SIZE IN CHINA
THE FIRST SKECHES AND MODELS IN 1:12
Billedhugger laver granittorv
TV2 Nord Salto indslag fra den 23. februar 2016
Billedhugger laver granittorv
Nordjylland Live indslag fra den 27. august 2015